Frites
Specially developed for the delivery of fresh, crunchy chips.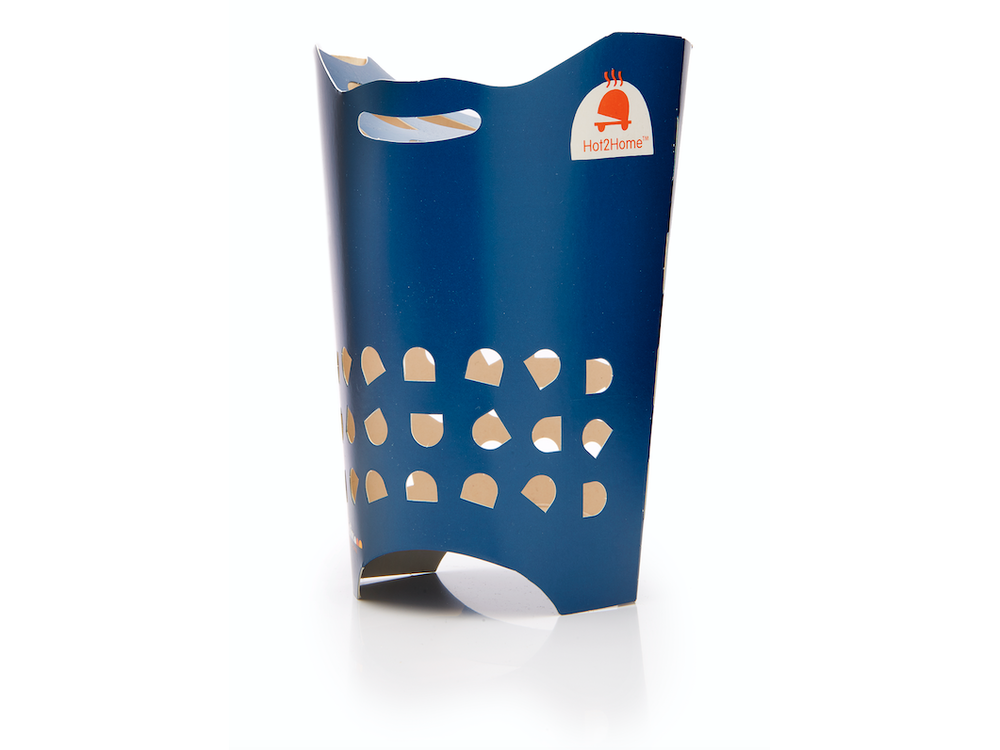 The development of packaging, specifically for the home delivery of deliciously crunchy chips. The Hot2Home™ is equipped with a lid to ensure that the chips do not fall out of the cup during delivery. Soggy chips caused by the moisture released from hot chips is a significant limitation for home delivery. This new packaging, combined with new chips developed by LambWesten vof, ensures crunchy chips for a maximum of 20 minutes. Sufficient time to provide home delivery.
Shape, material, graphic design
Consumer research was conducted to determine the shape of the Hot2Home™ packaging. Consumers associate the standing tapered shape with chips, and it contributes to the dissipation of the moisture released from the fried chips. A perforated pattern was applied to the side panels and lid of the Hot2Home™. This creates a chimney effect which draws the moisture out so that the chips remain deliciously crunchy for 20 minutes. The shape of the holes in the perforated pattern is drawn from the LambWeston vof logo, to place a link between the packaging and the owner of the design. The graphic design is relatively neutral but can be adjusted to match the clients of LambWeston vof.
Category
The Hot2Home™ packaging is the only one of its kind within the home delivery market. No other chips packaging product is capable of delivering crisp chips within the desired delivery time of maximum 20 minutes.
Innovative
Folding carton featuring a dispersion coating was selected as material. Coating is required to prevent penetration of the grease from the chips. Folding carton featuring PE coating was excluded as it is significantly less sustainable than the solution presented by Plasti Rolli with the Jazz+ material.
Applying the perforation pattern in the Hot2Home™ packaging presented a challenge. This is not achievable for the majority of producers. In partnership with the folding carton manufacturer Acket, we succeeded in applying the pattern to the packaging as envisioned.
Advantage
The main advantage of this innovation is that it is not possible to deliver crunchy chips via a home delivery system. The full franchise can now benefit from this innovation with consumers who are satisfied with the quality of the delivered chips.
Technology
The chimney effect of the Hot2Home™ packaging is a new, patented technology. Combined with the LambWeston chips specifically developed for home delivery, the goal was reached: crunchy chips delivered to the consumer.
More information about the frites packaging?
Contact Willem van der Burgt.
+31 6 113 502 48